2023
We opened the 2023  Season with the world-famous Glenn Miller Orchestra. One of the greatest big bands took us back in time with its unique jazz and swing sound!
The second concert was Fred Moyer Jazz Trio.  This incredible trio played transcriptions of some of the greatest jazz ever written as well as their own arrangements.
The third concert was The Escher String Quartet. The quarter played Ludwig van Beethoven's quartets with profound musical insight and rare tonal beauty.
The fourth week was our Rising Star concert.  With the "pure poetry" of his playing (Seen and Heard International), pianist and communicator Derek Wang treated us to Haydn, Brahms, Liszt and Chopin music.
The fifth week musicians were members of  SPANISH BRASS – one of the most dynamic and sought-after brass groups on the international musical stage. They played music from different eras, countries and styles.
We closed the Season with concert of violinist William Hagen and pianist Albert Cano Smit.  William and Albert wowed us will playing  a wonderful program of Stravinsky, Grieg, Brahms, Bach and Schubert. Many patrons agreed that it was one of the best classical music concerts they have ever been to.  A perfect concert to close the Season with!
2022
January 17th & 18st, 2022 AN EVENING OF OPERA HIGHLIGHTS
 Tavernier, Upper Keys, January 18, 2022-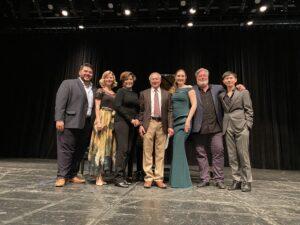 On that day, The concert was sponsored by the Schmitt family in memory of Alan G. Schmitt.
The residents and their visiting guests had an opportunity to spend the night enjoying beautiful sounds of music. As every year, An Evening of Opera Highlights was a hit. Four talented opera singers charmed the audience with their voices and execution.
The evening started with Samantha Hankey, mezzo soprano, and Amy Owens, soprano, singing a duet from Richard Strauss's Der Rosenkavalier. After two women's solo performances, Weston Hurt, baritone, and Angel Romero, tenor, captured audience's attention with their amazingly performed duet from Bizet's The Pearlfishers, which is about two friends swearing allegiance to one another. The concert culminated with arias and ensembles from Giuseppe Verdi's opera "Rigoletto". Richard Fu, was the pianist for the concert.
Sally Bauer, a season ticket holder and a big fan of operas said: "I thought it was fantastic. An incredible range of voices and everyone played their role well. A nice venue. Norman Werbner (program director) does a fantastic job selecting a program. This season's production is awesome".
January 24 and 25, 2022 FREDERICK MOYER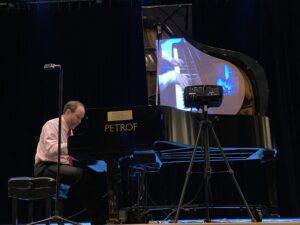 Always popular with concert audiences in the Keys, Frederick Moyer returned for another stunning performance.  Fred played the magnificent Tchaikovsky Piano Concerto along with compositions by Chopin, Mendelssohn, and Schumann. 
Barbara Koch, a season ticket holder said: "I love Fred Moyer. He always teaches me something about the music that I didn't know."
January 31 and February 1, 2022  LYSANDER PIANO TRIO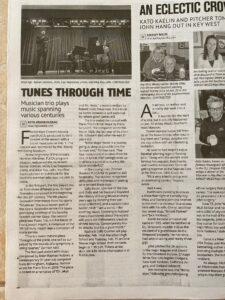 This incredible young New York-based  trio of violin, piano and cello is a winner of the Concert Artists Guild Competition. They are  lauded for their passionate playing and imaginative ideas. The trio played compositions by Schubert, Haydn and others .
February 14 & 15, 2022 RASTRELLI CELLO QUARTET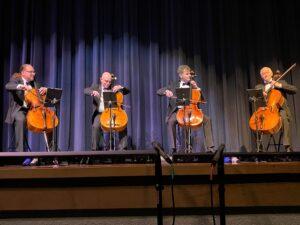 This concert literally brought Americans and Russians together. Four Russian virtuoso cellists from Rastrelli Cello Quartet performed Mussorgsky's "Night on Bald Mountain", selections from Porgy and Bess, Russian folk songs, plus music by Grieg, Puccini, Rachmaninoff and Brahms.  For an encore, the cellists played the songs of the Beatles, and the entire audience sang along.
"I loved every concert this season. I love to listen to classic and jazz. Like familiar tunes. It comforts me, like a comfort food. My mother is a Russian. The Quartet performers are passionate about what they are doing. Have good sense of humor. Their music has very complex emotions. It's inspiring. Would like to do a painting of them," says Marlisa Gerrett of Marathon, a five-year season ticket holder.
February 21 & 22, 2022 JUPITER STRING QUARTET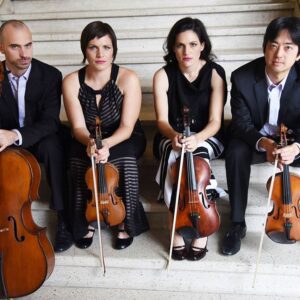 The Jupiter String Quartet is a particularly intimate group, consisting of violinists Nelson Lee and Meg Freivogel, violist Liz Freivogel (Meg's older sister), and cellist Daniel McDonough (Meg's husband, Liz's brother-in-law). Now enjoying their 20th year together, this tight-knit ensemble is firmly established as an important voice in the world of chamber music. The New Yorker claims, "The Jupiter String Quartet, an ensemble of eloquent intensity, has matured into one of the mainstays of the American chamber-music scene." The quartet  played Haydn, Shostakovich, and Mendelssohn.
February 28th & March 1st, 2022 VOYAGE THROUGH THE AMERICAS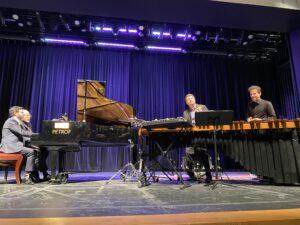 2022 final concert was dedicated in memory of Bill Key, a great philanthropist and a major benefactor of the Association. Four outstanding and most talented in their musical field musicians played South America's tunes mixed with the northern music classic compositions. Michael Brown and Orion Weiss, both piano, Nicholas Canellakis, cello, and Ian David Rosenbaum, percussion, created a unique quartet to play American classical music infused with jazz and folk tunes.   The Voyage was a concert through the continents, mixed music genres, and complexity of human's feelings.
"They seem so talented and focused. You can see on their faces. You can hear his (Canellakis, cello) breathing when he would get to a hard or an important part. You can hear a sharpened take of breath", Jim Kylis, one of the concert goers said.
2020
January 20th & 21st, 2020 GLENN  MILLER  ORCHESTRA 
With   its  unique  jazz  sound,  the  Glenn  Miller  Orchestra  is  considered  to  be  one  of  the   greatest  big  bands  of  all  time.  With  songs  like  "Moonlight  Serenade",  "Tuxedo   Junction"  and  "Chattanooga  Choo-­‐Choo",  they  are  as  American  as  apple  pie.  
January 27th & 28th, 2020 YOULAN JI
Pianist Youlan Ji, born in Beijing in 1999, was our 2020 "Rising Star".  At the age of four, she began studying the piano with her mother, and between the ages of nine and twelve, continued her piano studies with Professor Yuan Ling at the Affiliated Middle School of Central Conservatory of Music at Beijing.  In 2012, Youlan moved to New York to attend the Juilliard School's Pre-College Division, where she continues to study with Yoheved Kaplinsky.
February 3 & 4th, 2020 Mary E. Bowden and David Dash with the Kassia Ensemble
Founded in 2010, the Dash Duo has delighted audiences across the United States with their virtuoso performances. Husband and wife trumpeters Mary Elizabeth Bowden and David Dash teach at the University of North Carolina School of the Arts; Dash as the Assistant Professor of Trumpet and Bowden as a Resident Artist.
February 10th & 11th, 2020 CANNEILLAKIS/BROWN  DUO
Cellist  Nicholas  Canellakis  and  pianist/composer   Michael  Brown  combine  masterpieces  from  the  standard  repertoire  with  original   compositions  and  arrangements.    Hailed  as  "a  pair  of  adventurous  young  talents"   (Time  Out  New  York),  These  artists  with  the    Chamber  Music  Society  of  Lincoln   Center  have  been  captivating  audiences  with  their  superb  musicianship  and   thrilling  performances.  

February 24th & 25th, 2020 LINCOLN TRIO
GRAMMY nominated Chicago-based Lincoln Trio—made up of Desirée Ruhstrat, violin, David Cunliffe, cello, and Marta Aznavoorian, piano—takes its name from their home, the heartland of the United States, the land of Lincoln.  Lincoln Trio   was  chosen  to  celebrate  the  Abraham  Lincoln  Bicentennial  celebration   with  President  Barack  Obama.  They  delight  sophisticated  music  lovers,  young   admirers  of  contemporary  programs  and  students  discovering  chamber  music  for   the  first  time. 
March 2nd & 3rd, 2020 EVENING OF OPERA HIGHLIGHTS

Randall Bills, tenor, has been praised by Opera News for his "consummate mastery of Rossini's style, range and vocal bravura" and by Opernglas for his "vocally powerful, technically impressive, dominant heroic tenor". The Wall Street Journal raved that he possesses a voice of "lyrical beauty and intensity". Mr. Bills has sung throughout the United States as well as Europe and Asia at such venues as the Rosssini Opera Festival, Santa Fe Opera, Moscow Philharmonic Society, Seattle Opera, and the Walt Disney Concert Hall. New York City Opera, and Bayrische Staatsoper.
Juyeon Yoo, soprano, is a native of South Korea. She is currently based in NYC and pursuing her Professional Studies Diploma at the Mannes School of Music. She most recently participated in Aspen Music Festival covering the role of Susanna in Mozart's Le Nozze di Figaro. She has performed as Micaëla in Bizet's Carmen, Sophie in Strauss' Der Rosenkavalier and Marzelline in Beethoven's Fidelio. During the summer of 2018, Ms. Yoo was a Young Artist at Prague Summer Nights where she won the 1st place and the Audience Favorite Award at the Prague Summer Nights Vocal Competition. Ms. Yoo earned her Master of Music degree at the Indiana University Jacobs School of Music. She holds a Bachelor of Music degree from Seoul National University.
Xiaomeng Zhang, baritone, is from Wenzhow, China and recently completed his Artists Diploma at Juilliard. This past summer Mr. Zhang sang the role of Count Almaviva at the Aspen Music Festival's production of La Nozze di Figaro to great acclaim. The 2019-2020 season will see him as Figaro in Opera Columbus' new production of Il Barbiere di Siviglia and the title role in Don Giovanni at Juilliard Opera. Mr. Zhang was a 2018 national semifinalist in the Metropolitan Opera National Council Audidtions. He received his bachelor's degree at Shanghai Conservatory of Music and his master's degree from Manhattan School of Music.
 2019
Jan. 14 & 15, 2019 FRED MOYER TRIO
This program featuring the Fred Moyer Jazz Trio was a triple treat! The main features: the trio's unique take on the Great American Songbook–such favorites as On the Street Where You Live, Witchcraft, Autumn Leaves, All the Things You Are, On a Clear Day.
Finally, Fred who has appeared many times for the Florida Keys Concert Association as a solo classical pianist played a few short classical selections, chosen to demonstrate the many connections between classical music and jazz.
Jan. 21 & 22, 2019 TENGKU IRFAN
Irfan is from Malaysia, is 20 years old and started piano lessons at age 7. He began composing shortly thereafter, quickly branching out with chamber pieces and larger orchestral works. His major debut performance was at age 11, as a soloist performing Beethoven's Piano Concerto in E flat with the Malaysian Philharmonic Orchestra, under the direction of Claus Peter Flor, when he improvised his own cadenzas for all three movements.
As a composer, Irfan has been called "the Malaysian Mozart"
Feb. 4 & 5, 2019 AMERICAN CHAMBER PLAYERS
Beginning in 1985 as a core group of artists of The Library of Congress Summer Chamber Festival. The ensemble performs repertoire ranging from familiar masterpieces to neglected gems to newly commissioned American works. Cellist Stephen Balderston, Violinist Miles Hoffman, Flutist Sara Stern and pianist Reiko Uchida have toured throughout North America and traveled to Paris for a series of gala concerts at the Paris Opera and the Bibliotheque Nationale.
Feb. 11 & 12, 2019 NAUGHTON TWINS
Christina and Michelle Naughton share a birthday, a talent and sometimes a piano. They have been hailed as one of the best piano duos of the decade. The Laughton's professional career was launched in 2010 with debuts at the Kennedy Center in Washington DC and the Mann Center for Performing Arts with the Philadelphia Orchestra. Their professor from Julliard, states "When they play together, they seem to have one mind and one body-it's extraordinary".
Feb. 18 & 19, 2019 CAMERATA RCO
Formed by members of Amsterdam's famed Royal Concertgebouw Orchestra (RCO) performs chamber music in multiple formations from just to small chamber orchestra, with a special focus on Classical and Romantic repertoire for winds and strings, and active relationships with living composers. It is an absolute love of chamber music that drives these musicians to divert time out of their busy schedules, as members of one of the world's greatest orchestras, to perform together as Camerata RCO. Praised by the NY Times for their "warm, glowing performance" the ensemble has enjoyed tremendous success in The Netherlands and abroad and now performs around 50 concerts a season internationally in music capital around the world.
Feb. 25 & 26, 2019 SPANISH BRASS
In 1989, five members of the Spanish National Youth Orchestra bonded. Carlos Beneto, trumpet, Juanjo Serna, trumpet, Manulo Perez, horn, and Sergio Finca, tuba. Since then, they never stopped meeting to play music. In 1996 they won First Prize in the 1996 Narbonne (France) Internal Brass Quintet Competition, the most prestigious event of its kind in the world, and decided to create Spanish Brass Luuk Metals. The group now performs over a hundred concerts each year, all around the world.
 2018
Jan. 15 & 16, 2018  THROWBACK
The definition of  "throwback" basically means: a reminder of the past.  This quartet brings together an infectious energy with a love of yesterday's music.  As Sunshine District champions, Throwback has performed shows all across the United States-from Anchorage to New York City to Miami, including a strong finish at this year's Barbershop Harmony Society International Convention in Las Vegas where they earned a bronze medal!  The quartet includes Sean Devine, Artistic Director, Paul Phillip Saca, tenor, Alex Rubin, baritone and Michael Skutt, bass.
Jan. 12 &23, 2018  JI, pianist
Ji (pronounced Jee) began studying piano at age five, when his mother, a Korean singer, found hi playing by ear.  At the age of ten, he was the youngest pianist to win the New York Philharmonic's Young Artists Competition.  He graduated from Juilliard School where he studied with Yoheved Kaplinsky.
Hailed by the Chicago Tribune as "a gifted young pianist who is clearly going places," Ji has been praised for his compelling musical presence and impressive technical command.  In 2017, he signed to Warner Classics as an exclusive recording artist.  For his label debut, he has recorded Bach's Goldberg Variations, to be released in January 2018.
Jan. 29 & 30, 2018  TRIO SOLISTI
Translated as "Three Soloists", their name describes three dynamic artists who have joined their individual forces.  Trio Soloist has forged a reputation as "the most exciting piano trio in America" (The New Yorker), with a passionate performance style that combines exceptional virtuosity and musical insight.  The New York Times called it "probably the finest American (piano trio) currently on the field".
The members of Trio Soloist, Maria Bachmann, violin, Alexis Pia Gerlach, cello and Fabio Bidini, piano continue to enjoy success in many different musical endeavors.
Feb. 5 & 6, 2018  EVENING OF OPERA HIGHLIGHTS
Cesar Canon, Pianist is a concert pianist, vocal coach and conductor, who has performed in his native Colombia, Brazil, Canada, Italy, Mexico and the United States.  In January of 2018, Canon will join the music staff of San Francisco Operas as an Adler Fellow.
So Young Park, Soprano-a native of South Korea, So Young Park thrills audiences with her "stunning" (L A Times) and "dead-accurate" (New York Times) voice.  Maestro Placid Domingo invited her to perform alongside him as a soloist for his concert at the Seoul Olympic Gymnasium.
Mane Galoyan, Soprano-Ms. Galoyan holds two degrees from the Yerevan State Komitas Conservatory in Armenia, where she was named the 2013 winner of the President of the Republic of Armenia Youth Prize.  She performed extensively with the Armenian National Chamber Orchestra.  She was a finalist at the XV International Tchaikovsky Competition and a winner of numerous international competitions.  She is in her third year with the Houston Grand Opera Studio.
Carlos Cardenas, Tenor-born in Bogota, Colombia, in 2016 Mr. Cardenas was awarded the Cartagena Music Festival Scholarship and won an award in the NATS student auditions in the advanced category.  In 2017, he received awards in the Gerda Lisper Foundation Art song/Lieder competition in New York City, and from the Metropolitan Opera, Illinois District.  He currently attends the University of Notre Dame's Sacred Music Program.
Federico De Michelis, Bass, Baritone-born in Buenos Aires, Federico De Michelis was a member of the Opera Studio of Teatro Argentino de La Plata and a student at the Escuela Superior de Musica Reina Sofia in Madrid.  He was named "Outstanding Student" by Her Majesty Queen Sofia of Spain.  A recent graduate of the Houston Grand Opera Studio, Mr. De Michelis will return to Houston Grand Opera this year as a principal artist.  He will make his debut this year with Palm Beach Opera, performing Figaro in Le Nozze di Figaro.
Feb. 19 & 20, 2018  ATTACCA QUARTET
The Attacca Quartet is Amy Schroeder, violin, Keiko Tokunaga, violin, Nathan Schram, viola, and Andrew Yee, cello.  The internationally acclaimed Attacca Quartet was formed at The Julliard School in 2003, and has gone on to become on of America's premier young ensembles.  From 2011-2013 they served as the Juilliard Graduate Resident String Quartet, and they were the Quartet in Residence by the Metropolitan Museum of Art in New York 2014-2015.  In 2016-2017 they opened for rock superstar Jeff Lynne's ELO ub twi sick-out Radio City Music Hall performances.  Steve Smith of the New York Times has described the Attacca Quartet's playing as "exuberant, funky and …exactingly nuanced".
Feb. 26 & 27, 2018  FANDANGO!
The most exciting new group on Chicago's music scene.  FANDANGO! is a toe-tappingly spicy mix of Latin, Spanish, Sephardic, Balkan and classical sounds founded by four multi-award-winning, globe-trotting virtuosi who hail from Spain, The USA, former Yugoslavia and the UK who have played separately and together on the world's most prestigious stages.
Denis Azabagic and Eugenia Moliner ae a husband and wife team playing guitar and flute, acclaimed worldwide as the Cavatina Duo.  Flutist Eugenia Moliner has been acclaimed as "brilliant" by the British Flute Society magazine.  Prizewinner in twenty-four international competitions, Bosnian guitarist Denis Azabagic has been described as a "virtuoso with flawless technique" in Soundboard Magazine.  Also a married couple, violinist Desiree Ruhstrat and cellist David Cunliffe are both members of the Lincoln Trio, nominated for a GRAMMY Award in 2017.
 2003 – 2017
2003
Lisa de Simone and Keith Buterbaugh—Broadway songs
Miami String Quartet and Jodie de Salvo, Pianist
Trio Varonezh—classical music on traditional Russian instruments
Anagnoson and Kinton—dual pianists
Mikhail and Sonya Ovrutsky—violin/piano
Foothills Brass Quintet—dixieland jazz program
2004
Reprise—Barbershop Quartet
Clancy Newman and Noreen Cassidy Polera—cello/piano
Moscow Chamber Orchestra
Terrence Farrell—guitar
Thomas Pandolfi—pianist
Kalichstein Laredo Robinson—piano trio
2005
Solid Brass—big band
Daedalus String Quartet
Evening of Opera Highlights: Mara Bonde, Soprano; Blythe Gaissert, Mezzo Soprano; Jangwon Lee, Tenor; Brian Mulligan, Baritone; Djordje Nesic, Pianist
Miami String Quartet
Frederick Moyer, pianist
Ashu/ Winston Choi—saxophone/piano
2006
Foothills Brass Quintet
Renaissance Classical Orchestra—chamber orchestra
Clancy Newman / Noreen Cassidy Polera
Evening of Opera Highlights: Mara Bonde, Soprano; Blythe Gaissert, Mezzo Soprano; Ramone Diggs, Tenor; Brian Mulligan, Baritone; Djordje Nesic, Pianist
Moscow Chamber Orchestra
Stanislaw Drzewiecki, pianist
2007
Glenn Miller Orchestra
Trio Con Brio Copenhagen—Piano Trio
Frederick Moyer
Brazilian Guitar Quartet
Miami String Quartet
Moscow Chamber Orchestra
2008
Philadelphia Brass Quintet
Jupiter String Quartet
Opera—La Boheme (Jacksonville Lyric Opera)
Rising Star Concert: Ji-Yong Pianist
SONYC and Wind Soloists of New York—Chamber Orchestra
Stanislaw Drzewiecki, pianist
Vienna Boys Choir—Special fundraiser concert
2009
Evening of Rodgers and Hammerstein: Kathryn Skemp, soprano; Blythe Gaissert, mezzo; soprano; Nimrod Weisbrod, baritone; Djordje Nesic, pianist
Daedalus String Quartet and Wind Soloists of New York—Schubert Octet
Rising Star Concert: Peng Peng, pianist
New Century Saxophone Quartet
Cypress String Quartet
A Far Cry—chamber orchestra
2010
Bach to the Future
Clancy Newman / Noreen Cassidy Polera
Miami String Quartet with Jodie de Salvo, pianist
Rising Star Concert: Jose Franch Ballester and Anna Polonsky—clarinet / piano
Opera—La Cenerentola (Jacksonville Lyric Opera)
Frederick Moyer, pianist
2011
Harry James Orchestra
Soo Yeon Ham, pianist
A Far Cry, chamber orchestra
Rising Star Concert: Sarina Zhang, cellist/pianist with Adria Ye, pianist
Duelling Divas
BritBeat
2012
Guy Lombardo's Royal Canadians
Trio Solisti, piano trio
Marina Lomazov, pianist
Foothills Brass,
Rising Star Concert: Conrad Tao, pianist
String Orchestra of New York City, chamber orchestra
2013
The Dukes of Dixieland
The Glenn Miller Orchestra
Frederick Moyer, pianist
An Evening of Opera Highlights: Ying Fang, soprano; Amy Shoremount-Obra, soprano; Lievens Castillo, tenor; Jorge Antonio Pita, tenor; Francesco Valpa, tenor; Sergio Puig, piano.
Jupiter String Quartet
Philadelphia Virtuosi
2014
Artie Shaw Orchestra
Rising Star Concert: Adria Ye, pianist
Alexander String Quartet
Soo-Yeon Ham, pianist
Trio Solisti
Jazz Arts Trio
2015
Tommy Dorsey Orchestra
Intersection
Alexander String Quartet
Michael Brown, pianist
An Evening of Opera Highlights: Samantha Hankey, mezzo-soprano; Christopher Job, bass/baritone; Martin Nusspaumer, tenor; Amy Shoremount-Obra, soprano; Sergio Puig, pianist
Anagnoson and Kinton, piano duo
2016
The New Xavier Cugat Orchestra
Jose Franch-Ballester, clarinet; Pablo Zinger, pianist; Harmony Zhu (guest pianist)
William Hagen, violin
Karolina Syrovatkova, pianist
Miami String Quartet
OC Times
2017
Canadian Brass
Intersection
Valentine Trio
Amernet String Quartet
Trio Varonezh
Frederick Moyer, pianist